Fifty Years Together and Many More To Come
by Inge Harding-Barlow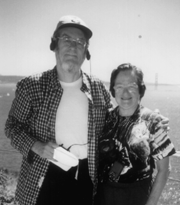 On Saturday, February 24th, Edith and Leland Smith, long-time residents of Barron Park, celebrated their Golden Wedding Anniversary. Edith is a well-known area artist, and Leland is a multi-talented musician. Both have been acclaimed internationally and spend much time traveling the world.
When Leland left the Navy in 1945, they married and rapidly returned to student life -- she at the graduate and he at the undergraduate level. They have three adult children, Stephanie Feldman (Los Altos), Clement Smith (Portola Valley), and Teresa Smith-Milo (Barron Park), and five local grandchildren.
We hope to be able to greet you at your 75th anniversary, as you appear to grow younger each year!
---
Return to BPA Spring Newsletter Index